Color Chip Program
Selecting the best colors for a project often entails tapping into your creative side and experimenting with the many possibilities available to find the ideal color palette, a task made much more difficult if you don't have the necessary samples to conduct accurate research.
Color cards and images on websites can offer a good representation of general color, but they can't perfectly replicate the value and tone of the color once the powder is applied to a metal substrate. While providing powder coating samples on request is a viable solution for accurate color matching, preparing and shipping the samples requires additional time that risks putting your project behind schedule.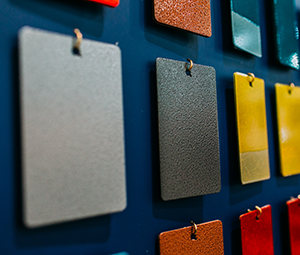 Our Color Chip Program resolves these challenges by supplying you with 2"x3" chips coated in more than 300 of the most popular colors from our extensive portfolio of powder coatings, allowing you to freely explore your creativity. All the chips are created according to our quality control process to ensure the powders are applied at the recommended film build and meet our quality appearance specifications before being placed into inventory and released for shipment.
To further enhance the usability of the Color Chip Program, we offer a wall-mounted display system so you can quickly and easily access your chips. 
Download the Chip Program Order Form to Order Your Chips Today.